Chocolate tends to be a staple in most people's diets. There's no shortage when it comes to chocolate treat options, and you can usually find the tasty treat at any store you go to. Seriously… convenience stores, clothing stores, grocery stores, entertainment centers - chocolate seems to be everywhere!
It's no wonder that it becomes a constant craving. Not only are we seeing the endless options everywhere, but the majority of those options are packed full of sugar, artificial sweeteners, preservatives, and other ingredients that leave us wanting more.
It's way too tempting to just say "no" though, right? Let's look at what's commonly found in chocolate bars, and then we'll go over what to look for instead.
What's Commonly Found In Chocolate Bars?
Let's review a couple fan favorites when it comes to chocolate bars. First on the list is the popular Hershey's Bar.
Hershey's Bar
Hershey's chocolate has been around for over a century, and it's a household name that is easily recognizable. Even kids know what the dark brown wrapping signifies. What's in a Hershey's Bar, though? These are the ingredients listed on their website:
Milk Chocolate (Sugar, Milk, Chocolate, Cocoa Butter, Milk Fat, Lecithin, PGPR, Natural Flavor)
At first glance, you may not think that these ingredients are all that bad, but these ingredients are not simple.
Sugar
Sugar is the first ingredient listed, which is not a great sign. It's going to spike your blood sugar and leave you wanting more, more, more.
Lecithin, PGPR, Natural Flavor
Each of these is a food additive. Food additives are often used to change the flavor, color, and texture of a product, and they can often lead to some nasty side effects. For the most part, they're just unnecessary added ingredients! We have written several articles about food additives. Dive in to understand just how these ingredients are wreaking havoc on your body.
Hershey wants you to think that the ingredients are simple, but there's a lot more to it than just milk chocolate.
Reese's Peanut Butter Cups
Let's review the ingredients of another popular chocolate treat that so many people just can't resist… Reese's Peanut Butter Cups.
Milk Chocolate (Sugar, Cocoa Butter, Chocolate, Skim Milk, Milk Fat, Lactose, Lecithin, PGPR), Peanuts, Sugar, Dextrose, Salt, TBHQ & Citric Acid
Not only are the milk chocolate ingredients the same and still just as alarming as the Hershey Bar, but there are some others to be aware about.
Dextrose
Not only is the milk chocolate full of sugar, but sugar is listed as an additional ingredient in addition to the added sweetener, dextrose. Dextrose is an ingredient that offers absolutely no nutritional value. It's a simple sugar that usually comes from corn or wheat. It's going to spike your blood sugar which will leave you feeling tired, hungry, and searching for more energy sources.
That's way too much sweetener in one tiny product! It's no wonder that you can't say no to eating just one of these at a time.
TBHQ
TBHQ is a preservative that's often used to extend the shelf life of a product. Again, it's an unnecessary food additive, and it may come with some serious side effects that you should be aware of.
Not only has TBHQ been linked to cancer, studies have also linked it to asthma, allergies, and ADHD in children.
Why are such controversial ingredients still so popular? It's time to Wake UP, people!
Clean Chocolate Bars That Taste Amazing
Wake Up and Read the Labels is on a mission to help empower people to feel good, and we believe that starts with reading the ingredients.
Now that you know what's in a Hershey's Bar and a Reese's Peanut Butter Cup, you may be wondering how you could possibly live without them.
The real question should be, how can I find a chocolate bar that is not going to have such controversial ingredients that will leave me feeling tired, inflamed, bloated, and craving more? Don't worry, there's always a clean swap!
One of our favorite clean brands, Nutsóla, just launched their new line of clean chocolate bars, and the ingredients are squeaky clean. See for yourself!
Organic Cacao, Organic Peanut butter, Sea Salt, Organic Dates, Organic Cocoa Butter
Beautiful! No preservatives, no unnecessary sugars or artificial sweeteners, and they're all organic ingredients. This list is a dream come true.
Nutsóla Is An Ethical Food Brand That Cares
We love finding brands that focus on creating products that are made with real ingredients, and Nutsóla is a perfect example. We spoke to one of the founders, Adam Kukoff, on the Wake Up and Read the Labels podcast, and he explained just why they take such pride in their ingredients.
They started out their business making DIY energy bars using their mixes of nuts, seeds, fruit, and spices, and they've expanded over the years creating different products. Their ingredients have always been consistently clean. In fact, they only use fruit to sweeten their products, which is evident even today in their new line of chocolate bars.
We highly recommend Nutsóla, and we know you'll love their products, too. You'll satisfy that chocolate craving with their chocolate bars, and you won't feel hungry or tired afterward.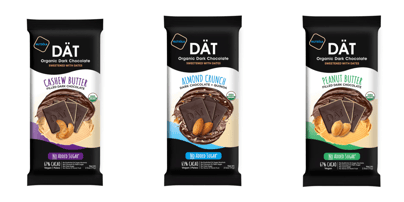 Use code WAKEUP10 to get 10% off your next Nutsóla purchase as an added bonus.